American presidents enjoyed it. So did Soviet leaders like Bulganin and Khrushchev. The King of Nepal and the Shah of Iran were fans. Though these titles – and jobs – have passed into history, as has the Soviet Union, tandoori chicken remains one of the great staples of north Indian cooking, sardarji nights-out and cheesy jokes.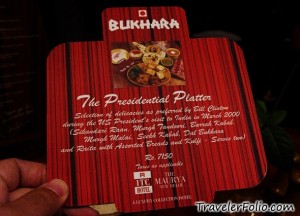 In India, the roadside tandoor can turn out as good fare as the five-star Bukhara (in the capital Delhi), with its special Presidential Platter concocted for that great tandoori chicken aficionado Bill Clinton. (He was just one in a famous line of White House residents who relished tandoori murgh. Richard Nixon and JFK were fond of it too).
Here in Haiti, with its own version of chicken (locally called "bbq" and good in its own way but very different from the tandoori version) if you want to eat tandoori chicken, you've got to make your own.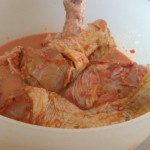 So we are. Here' where we're at: drumsticks marinated a la Madhur Jaffrey with youghurt, onions, garlic, ginger and cumin powder, garam masala, turmeric and a few drops of red food colouring.
Once we cook it in a very hot oven, here's where we want to be.