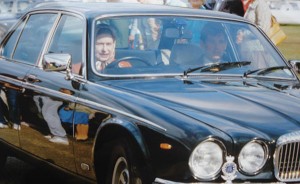 As The Daily Telegraph put it, "it may have seemed a fairly standard description for a second hand car – green 2001 Daimler, low mileage and one careful lady owner." Except that the lady in question was the Queen.
She owned it from 2001 to 2004 and it even had a specially designed sliding holder for her handbag.
The Daimler Super V8 LWB limousine was sold on Saturday – a snip at £40,500 or just about $63,000.  It does seem a frightfully good deal for a vehicle, which has been driven just 15,242 miles and has all its original specifications, including lamb's wool rugs on the floor.
More to the point, it's a piece of moving history. Or a moving piece of history, depending on how you look at it.
The buyer, Ian Lillicrap, who has a long and established interest in the make and model of car said he had acquired a "little bit of history".
It's a good word for the extraordinary developments that have taken place in the 61 years since the Queen came to the throne.
As the BBC reports, when the young Elizabeth was crowned, "it was only the sort of people that she might count as friends who could afford a car." Back in 1952, just one in 20 people in Britain owned a car. Today it's nearer one in two. Back then, the Morris Minor was the people's choice (and cost about 20 months' untaxed average salary). Today's is the Ford Fiesta, which costs roughly the equivalent of five months of average salary. The car clearly reflects social and economic change, in more ways than one.
And as Marshall McLuhan said, it "has become the carapace, the protective and aggressive shell, of urban and suburban man".
Not quite so much perhaps for careful lady owners like the Queen, who advertised hers in a genteel fashion and closed the sale in a similar way.