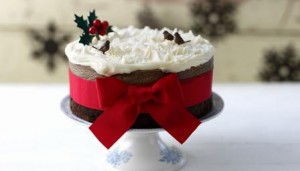 Christmas cake, or fruit cake as it's called in America, does not please everyone. Or, as Johnny Carson famously joked, anyone. "The worst gift is fruitcake," he said, "there is only one fruitcake in the entire world, and people keep sending it to each other."
It is hard to understand why anyone would loathe the inoffensive mix of brandy-plumped raisins, mincemeat, flour, butter and eggs. The Japanese love it. Britain eats it with gusto every year. So do Canada, Cyprus and the Philippines. Germans like their stollen and Italians their panettone. But Americans, as Robert Sietesma acerbically reminds us in The Village Voice, actually rejoice in events like the annual Great Fruitcake Toss in Manitou Springs, Colorado.
Despite all the jibes, we've macerated our mixed fruit – two whole kilos of it – for this year's cakes. Today, we plan to mix and bake them, putting them down in time to 'feed' them generously and well with rum, brandy, cognac – whatever we've got lying around, begging to be tossed into a drunken confection of some sort.
It's a serious business, putting down Christmas cake. My mother used to start the process in September, procuring the dried fruit at reasonable prices and asking for them to be chopped up small. It's not rocket science, just common sense, as Nigel Slater pointed out: "… the larger you keep the fruit, the juicier the cake will be, but generous lumps of fruit also mean your cake will crumble when you slice it. I rather like the sweet rubble effect of a collapsed cake, but those who hanker after slicing perfection may like to cut their fruit and nuts up no bigger than a raisin."
My mother's cakes – row after row of impeccably paper-encased, dark and fragrant rounds – would return from the baker sometime in mid-October. They would have been mixed at home and the baking tins filled, before being driven across town.
For us, it will be a simpler, less industrial-scale process. Which brings me to the peculiar satisfaction of baking Christmas cake here, in Haiti. Mr Sietesma starts his 'short history of the fruitcake' by apportioning blame for "the plague".
He lays it at the door of the European colonies in the Caribbean. All that cheap sugar arriving in Europe in the 16th century. "Some goon discovered that fruit could be preserved by soaking it in successively greater concentrations of sugar, intensifying color and flavor. Not only could native plums and cherries be conserved, but heretofore unavailable fruits were soon being imported in candied form from other parts of the world. Having so much sugar-laced fruit engendered the need to dispose of it in some way—thus the fruitcake."
Haiti played an important part in this. Hispaniola had its first sugar harvest in 1501 and within 250 years, the French colony of Saint-Domingue was the largest sugar producer in the world. The consequences of success would be bittersweet.
Unlike our cakes, made with fruit we brought in from the neighbouring Dominican Republic, making for a perfect island harmony. Or so we hope.