Here's some ideas for San Francisco, emailed a colleague who had lived there awhile:
Ride the cable cars
Walk across the Golden Gate bridge
Visit Alcatraz
Visit Fisherman's wharf and Pier 39
Lombard St (curviest street in the world)
Thanks, I replied, have you ever considered doing a series, 'Around a city in five seconds'.
Might be an idea, he said. And fun.
It was a light-hearted exchange, ahead of a light-hearted trip to a city famous for its beauty, quality of life, 'walkability', culturally rich streetscapes, can-do spirit, liberal activism, environmental conscience and a bit more.
But the idea of a series of five-second city guides stayed with me.
And you don't have to be a long-term resident.
In fact five things are about all you can enumerate in five seconds. And they're generally the stuff the tourist will know as he passes through a city.
So, here's 'Port au Prince in five seconds' (remember, the list is subjective):
Saunter along the walls of street art on Airport road
See the imposing Neg Marron downtown, symbolizing the unknown slave
Walk around Petionville
Eat at Kokoye, off Delmas 31 (it has the best poulet nan sos Djon Djon or chicken in Haitian mushroom sause)
Visit MUPANAH, the museum that lays bare many aspects of Haitian history and culture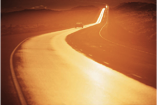 "Our battered suitcases were piled on the sidewalk again; we had longer ways to go. But no matter, the road is life"
– Jack Kerouac