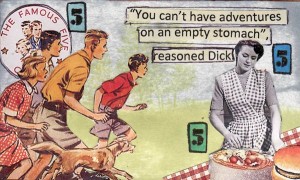 We've previously discussed the industrial gunk our parents and grandparents ate, with their aspic moulds and frankfurter casseroles. Click here for my blog on the subject. 
Now, consider the sort of rubbish consumed by the family of fictional children produced by Enid Blyton:
Potted meat sandwiches
Tongue sandwiches

Anchovy paste

Tinned sardines in tomato sauce

Pickled onions
Those were some of the over-processed parts of a typical meal that the Famous Five might tuck into any time.
Or the Magnificent Seven. Or the Five Find-Outers. Or the Adventurous Four.
I call it rubbish but I too must confess (along with this blog in Scroll.in by Diya Kohli) to being fascinated as a child by Enid Blyton's descriptions of the food her characters ate. They were generally pretty samey – scones, clotted cream, ginger buns, macaroons, hard-boiled eggs, bread and butter, some radishes, baked potatoes or perhaps, boiled, buttered and flecked with parsley, cold ham, lettuce, kippers,  cakes, biscuits and tarts of various sorts, all washed down with creamy milk, homemade lemonade or ginger beer.
It's only when you get past the age of Blyton's young characters that you realise that much of the food was stodgy and there wasn't much variation. Julian, Dick, George and Ann didn't really seem to get the chance to ask for an omelette, for example, or a fried or poached egg, it was always boiled.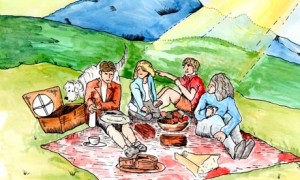 Looking back, one has to ask if Blyton's descriptions of the food were so memorable or just the fact that most of the meals her characters ate were picnics or cooked partly by them (on a little stove).
Both of these attributes really add to the enjoyment of a meal for most children. The freedom of eating while wandering, without heed to table manners. And the grown-up joy of frying a sausage and then eating it with buttered toast.
Perhaps the settings for Blyton's meals are more important than the actual food.