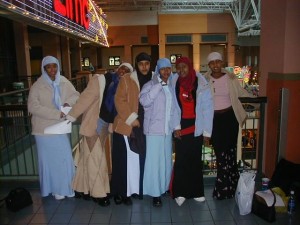 Mrs Clinton has been talking about Isil and how to fight terrorism yet again – her third speech on the subject in less than a month – and this time, she actually said something interesting.
She spoke in Minneapolis at the University of Minnesota, a state that is home to the largest Somali population in the US. It's often called Little Mogadishu. Unsurprisingly, Al Shabab and Isil view Minnesota's Somali-Americans as a recruitment resource and at least a dozen have been accused of leaving the state to join Isil and fight in Syria. (Nine have faced federal charges for their crimes and three have pleaded guilty, according to reports. Two others are presumed dead, one is still at large.)
Another couple dozen are said to have left Minnesota to join Al Shabab.
And yet Mrs Clinton said that the Twin Cities' example was striking: "You have seen firsthand how communities come together to resist radicalization. As the first Somali-American police sergeant in Minnesota and probably in the country said recently, 'Safety is a shared responsibility, so we have to work together'."
What could she have possibly meant?
Well, Minnesota has a pilot programme to strengthen relations between the Muslim community and law enforcement officers. A slew of new initiatives started in September after months of meetings held by US Attorney for the district of Minnesota Andrew Luger, with Somali community members, foundations and corporations. The Minnesota partnerships extend the Building Community Resilience pilot project, initially called Countering Violent Extremism, which was launched in 2014. It includes mentoring and a youth leadership institute.
Some Minnesota Somalis have expressed doubts about Mr Luger's involvement in a programme because it seems to link community development with counterterrorism activities. But Mrs Clinton seems to think it's working – though the time frame to assess success may be rather short.