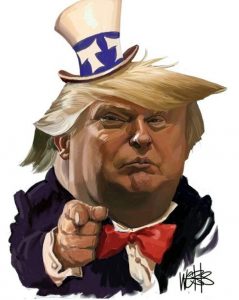 Those cheering the departure from the White House of Steve Bannon, chief strategist to Donald Trump and self-described "nationalist…not a white nationalist", might want to ask themselves why?
Why cheer the firing of an aide quite so loudly? An aide with a sharp brain and a distinctive philosophy, it's true, but an aide to President Trump nonetheless. He may have been credited with crafting the ideological underpinnings of the Trump campaign and then the presidency, but does Mr Bannon's exit mean Mr Trump will be, ah…less Trump-like? When did he, the President, last stop being himself? Could it have been in the brief moments he read from a teleprompter (during the campaign and then, as president) and didn't ad-lib to let America and the world know his unreconstructed, rather basic thoughts? Well, those teleprompter moments were few and far between. And Mr Bannon, whatever the scary nature of his vision of America and the world, cannot be saddled with responsibility for all of Mr Trump's outrageous opinions.
As Anne Applebaum recently pointed out in her Washington Post column, "Donald Trump's first appearance on the front page of the New York Times was in 1973, when President Richard Nixon's Justice Department sued his family's real estate company for discriminating against black would-be tenants. In the 4½ decades since, he has used racial smears and stereotypes — Mexican rapists, sly Jews, lazy blacks — over and over again, in public, including during last year's election campaign."
This was not because Mr Bannon played the role of Trump-whisperer. This was on account of Mr Trump being himself. It's what he is. Even if Mr Bannon's departure is followed by that of Steve Miller and Sebastian Gorka – two others who inhabit the ugly reaches of the nationalist Bannon universe – the Trump White House cannot be purged of its regrettable attitude to human rights, equality, justice. The man at the top is the one in charge. From him flows everything.