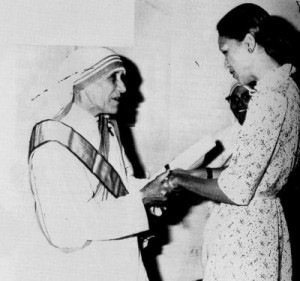 It was an article in the Pacific Magazine that reminded me of something I barely remembered. That Mother Teresa praised 'Baby Doc' Duvalier's regime or at least his wife's charity and grace to the poor.
There is a famous photograph of the little Albanian nun holding hands with the slim, soignée Michele Duvalier. She praised the "beautiful lesson" she learnt from her visit to Haiti in 1981 – namely, that "poor people could be so familiar with their head of state." She added, with probably execrable judgement for someone who spent a lot of time with the dispossessed and the damned (and was therefore, familiar, with the culture of the forced faun, the deliberate deception), that she could tell that Haiti's first lady really cared. She said Michele Duvalier was "someone who feels, who knows, who wishes to demonstrate her love not only with words but also with concrete and tangible actions".
She spoke just five years before the Duvaliers were run out of town. Not sure if my friend, Mother Teresa expert Dr Gezim Alpion would agree, but however much one might shake one's head at her naivete, no one could have really expected poor Mother Teresa  to know the ins and outs of the situation in Haiti.
Even so, the brief Michele Duvalier-Mother Teresa lovefest illustrates admirably the central point of the Pacific Magazine article. That "The fancy clothes and charitable works aren't incidental: The dictator's spouse is an important part of maintaining power."
Everybody does it, or did it while they could. Asma Assad. Soong May-ling, wife of China's Generalissimo Chiang Kai-shek; South Vietnam's de facto first lady Madame Nuh; and so on.
As has often been said, the glamorous spouse helps cement legitimacy by reinforcing a despot's personality cult. It is a means to an end. But in the end, it is always the means that spell the end.