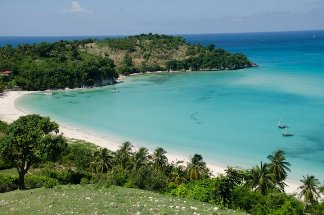 If the beautiful island of Ile-à-Vache gets taken over by the developers with deep pockets (click here for the Reuters report on the subject), the south and north of Haiti will be like bookends. Each will have an exclusive resort. Each will operate some form of apartheid, which prevents access to the great unwashed. Labadee, in the north, is practically fenced off from Haiti. If you're Haitian, there seem to be two ways of getting into Labadee resort. Either you get a job there and are allowed to trudge in and out under the watchful eye of armed guards. Or you get on board a cruise ship, probably sailing from Miami.
Whoever allowed the creation of a Haitian-no-go zone on Labadee must've had their reasons. Some say, they must've had lots of reasons, all of them green and in dollar bills.
Hardly anyone talks anymore about that long-ago takeover of the stretch of coastline that now houses Labadee resort. But it's a fair bet that it was not as heated an argument as that which consumes Ile-à-Vache.
As Reuters' David Adams reports, last year, the Haitian "government claimed the 17.3-square-mile former pirate lair as 'a public utility', potentially stripping the 14,000 residents of their land to develop a high-end tourist resort."
It's part of a larger plan for the south coast and tourism minister Stéphanie Villedrouin told Reuters that just five per cent (100 or 200 houses) will be expropriated.
In itself, that sounds harmless enough. So does a limited plan to share the island's pristine, nearly uninhabited beaches with the world – for a price.
The problem appears to be two-fold: First, few are confident that the villagers will be fairly compensated for their houses, land and displacement. Second, no one is sure each displaced household will have the right to be considered for at least one resort job (and the training that goes with it). It's an oft-tried way to leaven the pain of displacement with the possibility of a better tomorrow.