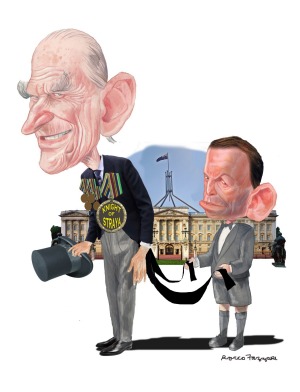 Everyone had pretty much forgotten about Prince Philip (the British Queen's husband is 93, hasn't made a gaffe in ages and had been poorly till he popped up in Norfolk to open something last week) and then he causes a political tremor in Australia.
Today, Monday, February 9, Australian prime minister Tony Abbott faced a leadership challenge. Down Under it's  apparently called a "spill". He won.
Mr Abbot was elected 17 months ago, promising stability and god knows, that's something Australia really needs. As the Sydney Morning Herald's Peter FitzSimmons pointed out in December 2014, "If the Coalition ditches Tony Abbott in the New Year, it will be our sixth prime minister in eight years… Italy, eat your heart out."
So what went so wrong? Granted that Mr Abbott has strange ears that stick too far out and has slashed spending on universities but the final straw appears to be that knighthood he gave Prince Philip.
It has really really incensed Australia in a way that says more about its internal obsessions than anything else.
Republicanism runs deep in the country. The Labor Party first made it an article of its policy in 1991 and its then prime Minister Bob Hawke described a republic as "inevitable". After him came Paul Keating, who established the Republic Advisory Committee, which produced an options paper on issues relating to the possible transition to a republic to take effect on the centenary of federation: 1 January 2001.
Fifteen years down the line, Australia seems to be republican enough to be prepared at least to consider sacking a prime minister who's come across as overly monarchist for the tastes of a modern country.
That is confusing considering the 1999 referendum on the establishment of a republic did not achieve the ends one might have thought. But many analysts said this was more because voters felt there might be difficulties with the proposed parliamentary appointment of a new head of state. Even some republicans apparently did not agree that the new president could be dismissed by the prime minister.
That was then, but just five years ago, the issue resurfaced before the federal election. Then Prime Minister Julia Gillard suggested that after Queen Elizabeth, Australia should become a republic. And as recently as Australia Day, leader of the opposition Bill Shorten called for a new attempt to discard the monarchy.
It's all very up and down, but the snowballing of discontent over Mr Abbott's proferred knighthood to Prince Philip probably really does say something.