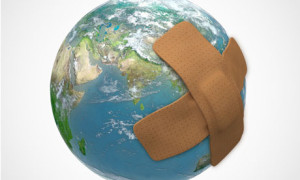 Once again, one has to hand it to Bjorn Lomborg. For his focused thought. His logic and reasoning. And above all, his common sense. And willingness to tell it like it is.
Mr Lomborg (who has often featured in these blogs) is, of course, an adjunct professor at the Copenhagen Business School. He runs the Copenhagen Consensus Center and is the author of The Skeptical Environmentalist.
More to the point, he is often the cool calm voice of reason in the midst of all the overheated debate about climate change, developmental initiatives, global health, equality, education, rights and responsibilities.
Now, in his latest Project Syndicate column, Professor Lomborg has once again called a spade a spade.
Or rather, diagnosed the world's health crisis.
As devastating as West Africa's Ebola epidemic has been, "its death toll of less than 20,000 people (and this) is dwarfed by that of preventable diseases such as AIDS, tuberculosis, and malaria," he writes.
Together, these three "caused more than three million deaths in 2013, hitting the world's poorest people the hardest."
He goes on to point out the politically incorrect obvious: "The truth is that we lack the resources – both human and capital – to solve every problem the world faces, so we must focus on the areas where we can do the most good."
That's not Ebola, obviously, but AIDS, tuberculosis and malaria.
TB, he rightly points out, is the very worst of all, killing about 1.4 million people each year though "treatment is highly effective and, on average, can extend productive life by 20 years".
He says that about $8 billion annually could provide nearly everyone infected with TB worldwide with treatment and suggests that "every dollar spent on treating TB would generate $43 in returns".
Malaria too has a cost-effective solution and a half-billion dollar investment in fighting it would mean $36 for each dollar spent, he says.
HIV/AIDS is more difficult. Anti-retroviral drugs have made an enormous difference but they're not cheap and "saving 200,000 lives in the worst-affected countries would require about $1 billion annually, with every dollar spent producing about $10 in benefits".
Instead, he suggests male circumcision as a cost-effective "one-off treatment". He says this "can reduce the transmission of HIV to men during intercourse by 60%, and, with some delay, also reduce transmission to women". Focusing on a handful of key diseases is probably a healthier way to apportion finite resources.
Most policy wonks are not as clear.
More soon. Language continues to confound us.