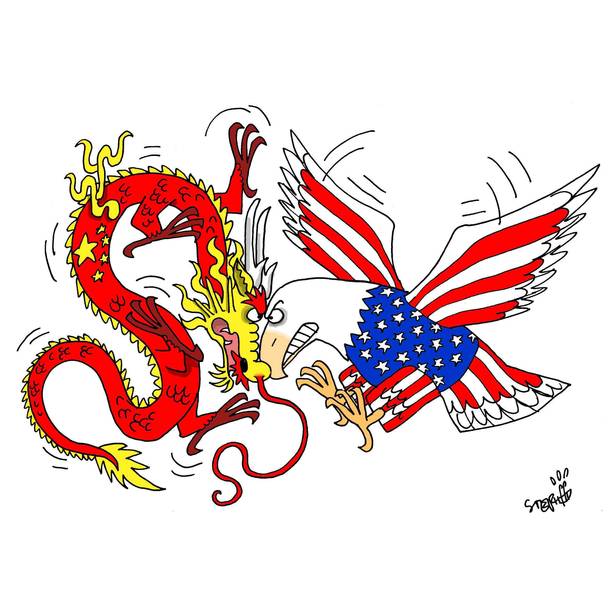 Some time ago, a Saturday Night Live sketch had someone ask the actor playing the then US Attorney General Jeff Sessions: "Where do you live?"
"The 1950s", responded the 70-year-old law-and-order Alabama conservative, who leans towards an America that isn't browning and becoming more ethnically diverse.
The 1950s, or at least the sense of being stuck in the past (one that was always better), dogs the current US President too. I'm not going to mention his name. There is no need. He is infamous enough and low enough to disgust all but the most partisan. Anyway, but as the man is in office, it is time to ask, is the 45th POTUS really able to navigate the 21st century?
Not so, says Michael Schuman @MichaelSchuman, a journalist based in Beijing and author of 'Confucius: And the World He Created'. The US president is already losing to China.
In a piece for Bloomberg View, Mr Schuman laid out the extent of incomprehension displayed by the old-school team that advises this US President. They do not know or understand how to be successful in a new age that goes beyond coal.
"China is marshaling massive resources to march into high-tech industries, from robotics to medical devices," wrote Mr Schuman. "In the case of semiconductors alone, the state has amassed $150 billion to build a homegrown industry."
How do this US President's attempts to boost American competitiveness measure up to this? Not very well because cutting taxes and regulation is not enough. Nor are tariffs on allies and threats to pull out of trade agreements.
And the discouragement of talented workers will hardly help the US run Chinese semiconductor competition into the ground. As Mr Schuman wrote, this President's "recent suspension of fast-track H-1B visas could curtail this infusion of scientists and researchers. If his intention is to ensure jobs go to Americans first, he need not bother. The unemployment rate for Americans with a bachelor's degree or higher – the skilled workers that H-1B holders would compete with – is a mere 2.5 percent."
Visa restrictions are likely to affect many different industries and Mr Schuman predicted that China will probably try to capitalize on this "mistake". He quoted the remarks of Robin Li, CEO of the internet giant Baidu Inc. Mr Li suggested that China should ease its visa requirements to attract talented workers to help develop new technologies.
China is studying hard to compete with an America led by a man like this President. For, this America will have more guns than graduates. As for China, its Premier Li Keqiang told the National People's Congress that the number of young people from poor rural areas enrolled in major universities rose by 21 per cent in 2016. And almost 8 million students are graduating from college.