All those Syrian babies named 'Putin' and 'Elena' after the Russian military spox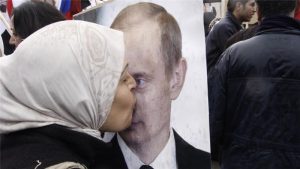 Here's all the news about the Russian offensive in Syria that you haven't heard about. Or so it's billed by .Coda.
Contrary to the surly reports from many western news outlets, .Coda writes about the optimism and the gratitude being felt by many Syrians. Towards Russia's Vladimir Putin and Russia in general. Click here to read the full story.
(If you haven't heard of .Coda @CodaStory, it's a relatively small, relatively new outfit with several experienced journalists. It claims to be "working to tell you stories you have never heard before and show you connections between them you never knew existed.")
Okay, so I've heard of Syria's love story with Putin but perhaps not in quite such detail. Also, relatively free of snark. It makes sense that some Syrians are learning Russian and watching Russian television news – after all the Russians are the main organised foreign fighting force in their country. But naming babies after the Russian military spokesperson is something else again.
(As I've written before, baby names are a bellwether for the way people experi­ence politics: Intensely. Madly. Often times, precari­ously. Baby names are serious business. Often, they are more than a social trend. They can be a lifeline, a meal ticket, a way to show solidarity with a brutal re­gime. Why else would thousands of Iraqis name their sons Saddam Hussein from the 1970s to the 1990s?)
Back to Syria in the closing months of 2017. According to .Coda, Syrians are naming newborn sons after the Russian president and a great number of little girls called "Elena" will be growing up in the country. That's the name of the regular spokesperson at Russia's main military base in Syria. Syrians are also tuning in to RT and a Sputnik news agency FM radio show, displaying Russian patriotic and military symbols such as St. George's ribbons, and selling mugs, magnets and other souvenirs emblazoned with photos of Mr Putin and Syrian President Bashar Al Assad together.
But it is the first two paragraphs of the story that really underline the extent of Russia's influence on Syria:
"Abu Muhammad is watching television as a customer comes into his shoe store in Al Hamra market, in the heart of Damascus. But he barely gives her a glance, and turns up the volume instead. The 6 p.m. newscast has just started on RT Arabic, and the 60-year-old store-owner always makes sure to catch it. The Kremlin-backed network, he says, 'is the most reliable channel covering Syria news.'
"His son looks after the customer, who wants winter shoes. And then the Russian president appears on screen and Abu Muhammad raises his hands and says: 'God bless you Putin!'"
The story lays bare what we already knew but never had so clearly spelt out. Kremlin-backed RT has become the "go-to station for many Syrians in government-controlled areas". So has Kremlin-funded Sputnik, "which produces a daily live one-hour show for Sham FM, one of Syria's most popular radio stations." The show is broadcast from Moscow and has news, features and studio discussion, as well as a 'Military Monitor' that updates Syrians on the state of the war.
The one-hour show's Russian presenters speak in "broken Arabic" but at least one Damascus taxi driver says he's a fan.
Syria's transition continues.