Haiti switches on to solar power as sustainable electricity solution
Solar energy is clean, green and can help to solve Haiti's power crisis. Now the world's largest solar hospital is lighting the way
Rashmee Roshan Lall in Port-au-Prince
Mirebalais is just an hour's drive north-east of the Haitian capital, Port-au-Prince, but in terms of technological distance travelled, the town might as well be on another planet. On moonless nights, much of the capital is dark; its shacks and makeshift roadside stalls are lit only by flickering candles or small kerosene lamps. It could hardly be otherwise in a country where only about 20% of the 10 million population are estimated to have access to electricity, the lowest percentage in the Caribbean.
But Mirebalais is home to a new, well-lit public hospital that can hum with activity round the clock. Seven months after the world's largest solar hospital opened its doors, its 1,800 rooftop solar panels have generated enough energy to charge more than 19,000 electric cars, run six surgical suites, attend to 60,029 patients and safely deliver more than 800 babies.
"The number of deliveries is a pretty substantial fact considering that approximately three-fourths of women in rural Haiti give birth at home. The hospital is helping to meet a substantial unmet need," said Jeff Marvin, of Partners in Health, which built the Mirebalais facility in partnership with Haiti's health ministry.
For Haiti, the hospital is a shining symbol of what the future might look like, powered by the island's plentiful sunshine.
More than 60% of electricity generation is unsustainably based on imported diesel, mainly from Venezuela. The overwhelming majority of Haitians rely on charcoal and wood for fuel, contributing to rampant tree-felling that has reduced forest cover to the perilous level of 2%. The search for cleaner, greener alternatives has become increasingly urgent. This is driving an initiative to literally light up Haitian lives, especially in poor off-grid areas such as the camps that sprang up around Port-au-Prince after the devastating 2010 earthquake, as well as deep in the rural hinterland.
A consignment of 12,000 WakaWakas (Swahili for shine bright) solar lamps, made by a Dutch company, arrived in October after a 10-month "buy one, give one" campaign, mainly in the US. They are being distributed free or for symbolic recompense in the form of community service through a network of non-governmental organisations identified with help from the Clinton Global Initiative. "This is the biggest endeavour that has brought high-quality personal, portable and self-sufficient solar LED lighting to Haitian families," said Elanna Veldkamp, of Off-Grid Solutions, which manufactures the lamps in China. "The scale of this campaign provides for a real and lasting change."
It is a bold claim, but even sceptics with experience of similar, if scattered, smaller-scale solar initiatives agree there is one crucial difference – the plan to make the WakaWaka lamps in Haiti.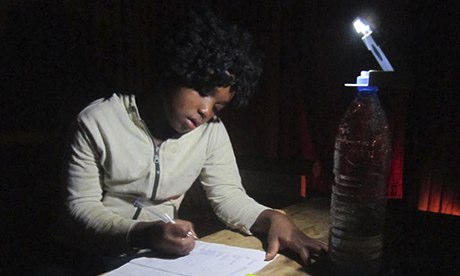 A woman works by the light of a WakaWaka lamp
Veldkamp said the Haitian government's enthusiasm led to a memorandum of understanding in June for large-scale local assembly, and eventually local manufacture, of the products.
If WakaWaka's plans for local manufacture work out, it could be a crucial turning point. "Solar lamps are old news and the majority sold around the world have been subsidised after manufacture in China," said Patrick Delaney, an American engineer who sold 10,000 solar lamps in Haiti, Nicaragua, Panama and a clutch of African countries through his largely self-financed non-profit company.
But even he agrees that local manufacture might upscale the sustainable provision of lamps across Haiti's hinterland. "What's new in 2013 is that wages are rising in China, less stuff will be manufactured there, so helping the local economy in Haiti by manufacturing them here would be the way to go," he said.
Already, the WakaWakas are making a huge difference, says John Winings of the Comprehensive Development Project (Codep), which plants 1m trees a year in Léogâne, west of Port-au-Prince.
Codep has received about 1,200 WakaWaka lamps for its 1,400-strong community and as payment it will plant an extra 50,000 trees this year. Winings said it was a bargain. "A personal solar light suits Haitian cultural proclivities. Solar power-generating plates are very easily stolen. Instead, you want something that you can use and put inside at night."
For Olkins Antoine, 19, a student from Cité Soleil, one of the capital's tougher neighbourhoods, the lamp means a lot. "Now I can see my way when I walk home at night … If someone tries to mug me, I can blind him with my light and run away. And, best of all, I can study for my exams – even after 5pm when it gets dark," he said.
Solar energy is definitely the future for Haiti, says Daniel Schnitzer, whose non-profit EarthSpark International plans to expand the country's first prepay micro grid with a 100-kilowatt solar power system to cover all of Les Anglais town centre in southern Haiti by June. Though Schnitzer is talking about large solar installations – 25 micro grids nationwide, with the Haitian government's blessing– his Eneji Pwop brand (clean energy in Creole) plans to stock WakaWakas for sale as well.
The outlook for solar-powered solutions may have just got brighter.