It's a fairytale that 'Emperor's new clothes' is the strategy for America's uncrowned king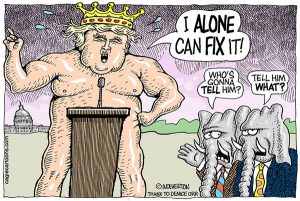 To documentary filmmaker Michael Moore must go the credit – or the blame – for suggesting an "emperor has no clothes" strategy to take on Donald Trump.
He's affected by comedy!" Mr Moore said on the eve of Mr Trump's January 20 inauguration as president. "If you make fun of him, if you ridicule him, or if you just show that he's not popular … I'm telling you, my friends, this is how he'll implode. This is his Achilles' heel … Participate in the ridicule and the satire for the emperor who has no clothes. Let's form an army of comedy and we will bring him down."
It sounded very brave (and progressive). Many might think that only a principled peaceable woolly liberal would suggest this magnificent nuclear strategy – laughing Mr Trump to shame.
It's obvious that people are misunderstanding 'The Emperor's New Clothes', the story written by Hans Christian Andersen nearly 300 years ago.
Do you remember the story? Two weavers promise the king a new suit of clothes, which will be magnificent but invisible to those who inhabit what Mr Trump would call "the swamp". When the emperor appears before his subjects in his new clothes, which is to say stark naked, no one dares to tell the truth for fear that they will be seen as "unfit for their positions, stupid, or incompetent". In Mr Trump's terminology, they wouldn't want to be seen as losers. Then a little child cries out, "But he hasn't got anything on." And the whole town cried out a last, "But he hasn't got anything on!"
The story ends as follows (in Jean Hersholt's translation from the Danish, click here for it):
"The Emperor shivered, for he suspected they were right. But he thought, 'This procession has got to go on.' So he walked more proudly than ever, as his noblemen held high the train that wasn't there at all."
Michael Moore didn't mention that bit because "the emperor's new clothes" strategy has become a euphemism for showing up someone for their stupidity, vanity, arrogance, wrong-headedness.
My question though is haven't we done this over and over in the past 18 months? Mr Trump has been mocked, derided and criticised in hundreds of ways, in hundreds of publications, TV shows, radio broadcasts and adverts. His lack of "new clothes" – government experience, foreign policy knowledge, impatience with data and inconvenient facts, judgement and wisdom – has been constantly pointed out. Far from a little child needing to call out Mr Trump's lack of clothes, the planet has been tittering behind its collective hands for nearly two years.
This is not to say that comedy won't have an effect on Mr Trump's excellent perception of himself, it's just that "the emperor's new clothes" is not the right metaphor.
If it is, remember the way the story ends:
"The Emperor shivered, for he suspected they were right. But he thought, 'This procession has got to go on.' So he walked more proudly than ever, as his noblemen held high the train that wasn't there at all."