Trump's plan: Make the American Political Show Great Again. #MAPSGA not #MAGA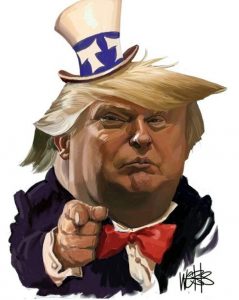 Timothy L. O'Brien, Donald Trump's biographer, has an interesting (and strangely comforting) view of the US president's attitude to governance. He doesn't care if any of his proposals become law, all he wants to do is rile up his base.
What for?
To be loved.
What for?
It's great for the ratings.
Make the American Political Show Great Again.
#MAPSGA not #MAGA
As Mr O'Brien writes, "Team Trump routinely looks more like a television sitcom rather than the command center of the federal government."
This is not as weird as it might sound. Think about it. President Trump's support for RAISE, a bill to restrict immigration, has little chance of moving smoothly and swiftly through Congress. Affirmative action rollbacks may not be successful either. The ban on transgender soldiers was announced by Mr Trump on Twitter but nothing further has happened, least of all an order from the Commander-in-Chief that the Pentagon can actually enforce.
The whole point is to rile up that famous Trump-loving base, to look and sound good to people who feel the sting of cultural grievance.
This is both good and bad. It's good if the US President doesn't pursue his polarizing policy suggestions but the fact that he makes them at all is dangerously polarizing too.